North Willow Artists Interview: Marcy Chevali

Marcy Chevali is the most recent artist to install a solo site-responsive project in North Willow Attic. Based in New York City, Marcy Chevali is a visual artist who received her MFA from the Maine College of Art. She has participated in exhibitions at the Queens Museum of Art, 4Heads, Aicon Gallery, AC Institute, and she has served on the board of directors for the South Asian Women's Creative Collective. She has been awarded residencies and fellowships at the Edward Albee Foundation, Playa Artist Residency and she recently attended a residency at FARM Studios Residency in Andore, Rajasthan, India in December 2019. Her work has recently been in a group exhibition at Aicon Gallery in New York City.

NW: Where are you sheltering in place?

MC: Jackson Heights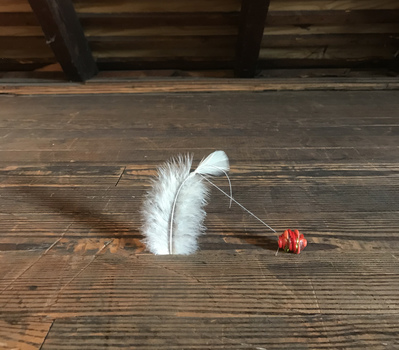 Ma'at, feather, glass, thread, 12 x 4 x 2 inches, 2019

NW: How are you feeling and managing, now that we're seven months into this pandemic?

MC: Sometimes I forget that this is strange. That I barely leave home, plans for the future are vague and distant or simple. Sometimes I look around and see everyone wearing masks and I get overwhelmed that we can't see each other's faces, that the act of breathing has become dangerous something that should be done in private. Sometimes I try to imagine my breath as it leaves my body, leaving a trail behind me or filling a space, mingling with someone else's breath. I imagine my breath spilling out the door when I open it, diffusing in the wind or eventually settling and falling to the floor.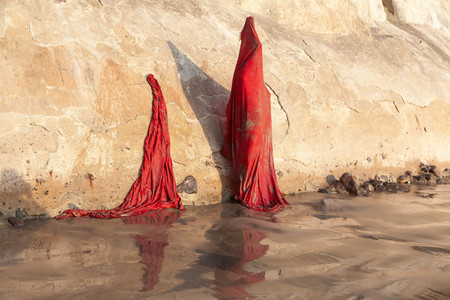 photograph, collaboration with Katherine Pickering, 2019

NW: Are you able to make studio work during this time? Whether you are able or unable, what are your thoughts about making art in times like these?

MC: I've shifted my practice a bit so that I can work at home. I knit wire into long undulating shapes that will fill a wall. I think I've made nine of them now. They curl off the wall and overlap or leave negative space in specific ways. The proportions of each piece are similar to that of the human body. Now I'm doing a sewing or embroidery project, filling a piece of muslin fabric with a repeated shape. I've always worked a lot with craft, women's work, repetition and long process based work. Right now I have a lot of time so it feels right to make these slow labor intensive projects. Towards the beginning of the pandemic I had trouble concentrating but I find these repetitive projects to be comforting. I've started some drawings on paper and thought about other more traditional studio projects, but for whatever reason, I can't get into them and keep coming back to these hand worked projects.

I do think it is important for artists to continue to make work during strange or unusual times. For me, art is a way to process emotion and things that are happening in the world. Sometimes it takes a while for things to come out.

I also try to keep in mind that even when I'm not feeling particularly creative, its important to keep working in order to get to the important and maybe unexpected things. There is a lot of unseen work that goes into making what might be considered a finished piece.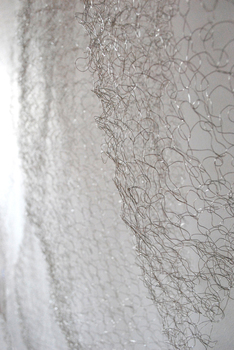 Waiting, knit wire, approximately 144 x 84 inches, 2020

NW: Are there any unexpected positive things that you're experiencing, in the midst of all the negative outcomes from this pandemic?

MC: It's humbling. It really strips everything down to what is most essential (which is a word we've been hearing a lot of lately).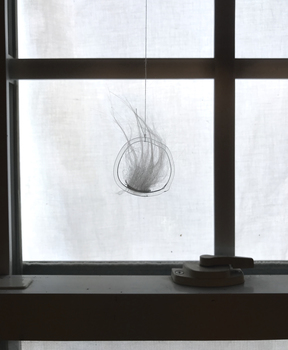 Untitled, glass, faux fur, string, 2019

NW: What are you most thankful for?

MC: I guess I'm most thankful for the chance to pause. I had to confront ideas of productivity and force myself to slow down. I think in the months prior to the pandemic I may have taken on too much. I was trying to learn how to make some brass components to add to some sculptures as well as making a new body of glass sculptures, working full time etc. The pause has lasted long enough to get over the initial shock of the pandemic, the clear exposure of systemic racism and many other political issues… Now there is more room for me to reflect on my own life and choices and I wonder if I will be able to preserve the time to bake bread and keep focused on important issues when I begin to rebuild activities in my life.


September 2020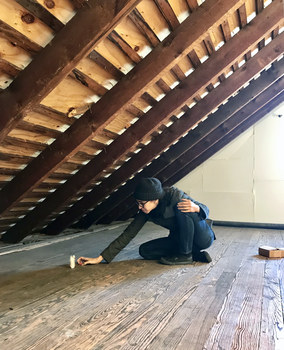 Marcy Chevali installing her solo attic exhibition -titled Tether- in December 2019. Her exhibition concluded in September 2020.
Link to her attic exhibition here.
Link to her website here.