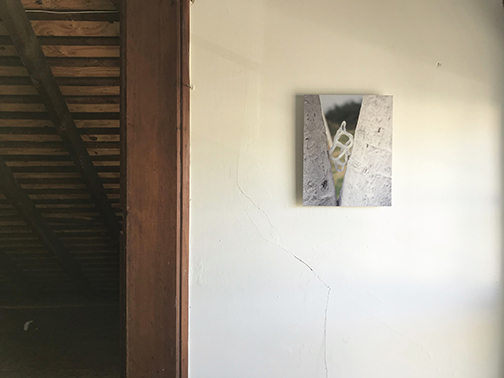 North Willow is pleased to present
Tether
, a solo attic exhibition by artist Marcy Chevali, and a project that is a continuation of her practice in sculpture and drawing.
Beginning on Thursday, December 5th, "Tether" is available for viewing by appointment. We invite you to experience what Marcy has created in this space through her particular use of images and objects that she has either made or found, and installed to give the viewer a sense that things and moments are being drawn, held up, pulled, projected, released.
As attics are often considered spaces where not only things are being stored and kept, but also as hideaway and play spaces where imagined activities, narratives and places are conjured, through Marcy's installation, North Willow attic is transformed into a place of several happenings: some subtle, some vivid, some referring to distances places, but each and all giving a sense of the word that she has titled her exhibition: tether.
In Marcy's words:
"In the attic, I will expose a collection of ordinary, everyday objects in conversation with specific and accidental handmade objects. The pieces in Tether are made from feathers, stones, seashells, plaster, projected image and faux fur. These assemblages are iterations of obscured thoughts. They are not clear in meaning or intent but obscured, half-formed, waiting. They have been tucked away in the attic to make room for more sensical things to occupy the everyday living space.

There is a red glow from a projected still image in another room. In the image, a small hand reaches out from underneath the folds of red cloth. Reaching. Despite this depicted action, the room hands a stillness, a content pause echoed in two small ceramic shapes, shielded by the sloped ceiling, their curves full, almost dripping echoing the shapes of the fabric. These forms point upwards with the same graceful reach of the hand. Beyond the projection, a crooked line of cherry stems hangs from the ceiling, hovering above the floor.

Things are gathered from other places. Seemingly desperate, they come together in a place of uneven cracks, splinters, architectural nooks, unfinished elements and exposed interiors. They don't make logical sense but share curves, attractions and repulsions, negative space and space that is reserved for the unspoken or undefined. Things are held tightly, their shapes changed by tethers but also stretching, releasing and slipping. They come together to surround hope on all sides."
About the artist:
Based in NYC, Marcy Chevali is a visual artist who received her MFA from the Maine College of Art. She has participated in exhibitions at the Queens Museum of Art, 4Heads, Aicon Gallery, AC Institute, and she has served on the board of directors for the South Asian Women's Creative Collective. She has been awarded residencies and fellowships at the Edward Albee Foundation, Playa Artist Residency and she recently attended a residency at FARM Studios Residency in Andore, Rjasthan, India in Dec 2019. Her website is www.marcychevali.com.
"Tether"
A solo exhibition by Marcy Chevali
December 2019 - September 2020